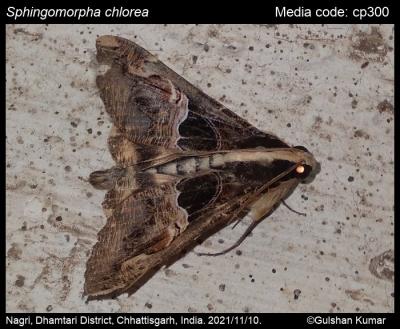 Photo Gallery and Species Biology
| State | Jan | Feb | Mar | Apr | May | Jun | Jul | Aug | Sep | Oct | Nov | Dec | No date |
| --- | --- | --- | --- | --- | --- | --- | --- | --- | --- | --- | --- | --- | --- |
| Andaman and Nicobar Islands | | | | | | | | | | | | | |
| Andhra Pradesh | | | | | | | | | | | | 1 | |
| Arunachal Pradesh | | | | | | | | | | | | | |
| Assam | | | | | | | | | | | | | |
| Bihar | | | | | | | | | | | | | |
| Chandigarh | | | | | | | | | | | | | |
| Chhattisgarh | | | | | | | | | | | 1 | | |
| Dadra & Nagar Haveli | | | | | | | | | | | | | |
| Daman & Diu | | | | | | | | | | | | | |
| Delhi | | | | | | | | | | | | | |
| Goa | | | | | | | | | | | | | |
| Gujarat | | | | | | | | | | | | | |
| Haryana | | | | | | | | | | | | | |
| Himachal Pradesh | | | | | | | | | | | | | |
| Jammu and Kashmir | | | | | | | | | | | | | |
| Jharkhand | | | | | | | | | | | | | |
| Karnataka | | | | | | | | | | | 1 | | |
| Kerala | | 1 | | | | | | | | | | | |
| Lakshadweep | | | | | | | | | | | | | |
| Madhya Pradesh | | | | | | | | | | | | | |
| Maharashtra | | | | | | | | | | | | | |
| Manipur | | | | | | | | | | | | | |
| Meghalaya | | | | | | | | | | | | | |
| Mizoram | | | | | | | | | | | | | |
| Nagaland | | | | | | | | | | | | | |
| Odisha | | | | | | | | | | | | | |
| Paschimbanga | | | | | | | | | | | | | |
| Pondicherry | | | | | | | | | | | | | |
| Punjab | | | | | | | | | | | | | |
| Rajasthan | | | | | | | | | | | | | |
| Sikkim | | | | | | | | | | | | | |
| Tamil Nadu | | | | | | | | 1 | | | 1 | | |
| Tripura | | | | | | | | | | | | | |
| Uttar Pradesh | | | | | | | | | | | 1 | | |
| Uttarakhand | | | | | | | | | | | | | |
| West Bengal | | | | | | | | | | | | | |
| Total | | 1 | | | | | | 1 | | | 4 | 1 | |
Sphingomorpha chlorea (Cramer, 1777): Vachellia tortilis, Vachellia karroo, Pisum sativum (Fabaceae), Azanza, Thespesia spp. (Malvaceae), Citrus spp. (Rutaceae), Malus domestica (Rosaceae) (Robinson et al. 2010).
OD: Noctua chlorea Cramer P. 1777. De uitlandsche Kapellen voorkomende in de drie waereld-deelen Asia, Africa en America, by een verzameld en beschreeven door den heer Pieter Cramer (etc.). 2(9–16):1-152, pls 97–192.
Hampson, G. F. 1894. The Fauna of British India including Ceylon and Burma. Moths, Vol. 2,  Taylor & Francis, London. Arctiidae, Agrostidae, Noctuidae 609 p - 325 figs.Pg. 490, # 2477, Fig. 276. 
Gupta, A. & P. Smetacek (2011). A new larval host record for Sphingomorpha chlorea (Cramer) (Insecta: Lepidoptera: Noctuidae) from Karnataka, India. Journal of Threatened Taxa. 3(2): 1553-1554. 
Page citation
Anonymous 2023. Sphingomorpha chlorea (Cramer, 1777) – . In Sondhi, S., Y. Sondhi, R.P. Singh, P. Roy and K. Kunte (Chief Editors). Butterflies of India, v. 3.60. Published by the Indian Foundation for Butterflies. URL: https://www.mothsofindia.org/sphingomorpha-chlorea, accessed 2023/09/22.