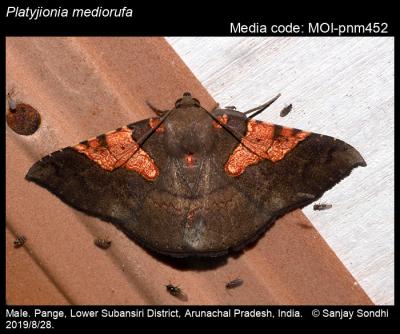 Photo Gallery and Species Biology
| State | Jan | Feb | Mar | Apr | May | Jun | Jul | Aug | Sep | Oct | Nov | Dec | No date |
| --- | --- | --- | --- | --- | --- | --- | --- | --- | --- | --- | --- | --- | --- |
| Andaman and Nicobar Islands | | | | | | | | | | | | | |
| Andhra Pradesh | | | | | | | | | | | | | |
| Arunachal Pradesh | | | 3 | | | | | 1 | | | | | |
| Assam | | | | | | | | | | | | | |
| Bihar | | | | | | | | | | | | | |
| Chandigarh | | | | | | | | | | | | | |
| Chhattisgarh | | | | | | | | | | | | | |
| Dadra & Nagar Haveli | | | | | | | | | | | | | |
| Daman & Diu | | | | | | | | | | | | | |
| Delhi | | | | | | | | | | | | | |
| Goa | | | | | | | | | | | | | |
| Gujarat | | | | | | | | | | | | | |
| Haryana | | | | | | | | | | | | | |
| Himachal Pradesh | | | | | | | | | | | | | |
| Jammu and Kashmir | | | | | | | | | | | | | |
| Jharkhand | | | | | | | | | | | | | |
| Karnataka | | | | | | | | | | | | | |
| Kerala | | | | | | | | | | | | | |
| Lakshadweep | | | | | | | | | | | | | |
| Madhya Pradesh | | | | | | | | | | | | | |
| Maharashtra | | | | | | | | | | | | | |
| Manipur | | | | | | | | | | | | | |
| Meghalaya | | | | | | | | | | | | | |
| Mizoram | | | | | | | | | | | | | |
| Nagaland | | | | | | | | | | | | | |
| Odisha | | | | | | | | | | | | | |
| Paschimbanga | | | | | | | | | | | | | |
| Pondicherry | | | | | | | | | | | | | |
| Punjab | | | | | | | | | | | | | |
| Rajasthan | | | | | | | | | | | | | |
| Sikkim | | | | | | | | | | | | | |
| Tamil Nadu | | | | | | | | | | | | | |
| Tripura | | | | | | | | | | | | | |
| Uttar Pradesh | | | | | | | | | | | | | |
| Uttarakhand | | | | | | | | | | | | | |
| West Bengal | | | | | | | | | | | | | |
| Total | | | 3 | | | | | 1 | | | | | |
OD: Thermesia mediorufa Hampson, 1894. Fauna Br. India, Moths, 2: 536.
Platyja sada Swinhoe, 1903, Fasc. Malay. Zool., 1: 79. 
Capnodes brunnea Swinhoe, 1906, Ann. Mag. nat. Hist. (7), 17: 550.
Kononenko, V. S. & A. Pinratana. 2005. Moths of Thailand, Volume 3: Noctuidae. An Illustrated Catalogue of the Noctuidae (Lepidoptera (in Thailand: Part 1. Bangkok, Brothers of St. Gabriel in Thailand. 261 pp., 45 pls.Pl. 12/23-26. Pg. 49. 
Sondhi, S. Karmakar, T., Sondhi, Y. & K. Kunte. 2021. Moths of Tale Wildlife Sanctuary, Arunachal Pradesh, India with seventeen additions to the moth fauna of India (Lepidoptera: Heterocera). Tropical Lepidoptera Research 31(Supplement 2): 1-53. DOI: 10.5281/zenodo.5062572. Image 203. 
Page citation
Anonymous 2023. Platyjionia mediorufa (Hampson, 1894) – . In Sondhi, S., Y. Sondhi, R.P. Singh, P. Roy and K. Kunte (Chief Editors). Butterflies of India, v. 3.42. Published by the Indian Foundation for Butterflies. URL: https://www.mothsofindia.org/platyjionia-mediorufa, accessed 2023/03/31.