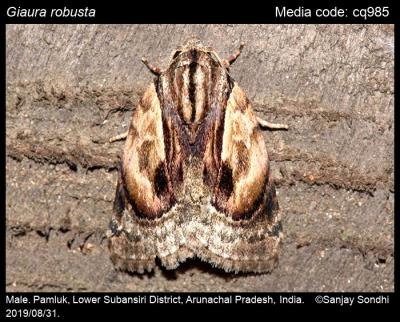 Taxonomic Information
Giaura Walker, 1863 species known from India:
Giaura leucophaea Hampson, 1905
Giaura lichenosa (Hampson, 1896)
Giaura minor (Hampson, 1896)
Giaura multipunctata Swinhoe, 1919
Giaura niphea (Hampson, 1896)
Giaura niveidisca (Hampson, 1894)
Giaura robusta (Moore, 1888)
Giaura tortricoides (Walker, [1866])
Giaura sceptica (Swinhoe, 1885)
Photo Gallery and Species Biology
| State | Jan | Feb | Mar | Apr | May | Jun | Jul | Aug | Sep | Oct | Nov | Dec | No date |
| --- | --- | --- | --- | --- | --- | --- | --- | --- | --- | --- | --- | --- | --- |
| Andaman and Nicobar Islands | | | | | | | | | | | | | |
| Andhra Pradesh | | | | | | | | | | | | | |
| Arunachal Pradesh | | | | | | | | 1 | 1 | | | | |
| Assam | | | | | | | | | | | | | |
| Bihar | | | | | | | | | | | | | |
| Chandigarh | | | | | | | | | | | | | |
| Chhattisgarh | | | | | | | | | | | | | |
| Dadra & Nagar Haveli | | | | | | | | | | | | | |
| Daman & Diu | | | | | | | | | | | | | |
| Delhi | | | | | | | | | | | | | |
| Goa | | | | | | | | | | | | | |
| Gujarat | | | | | | | | | | | | | |
| Haryana | | | | | | | | | | | | | |
| Himachal Pradesh | | | | | | | | | | | | | |
| Jammu and Kashmir | | | | | | | | | | | | | |
| Jharkhand | | | | | | | | | | | | | |
| Karnataka | | | | | | | | | | | | | |
| Kerala | | | | | | | | | | | | | |
| Lakshadweep | | | | | | | | | | | | | |
| Madhya Pradesh | | | | | | | | | | | | | |
| Maharashtra | | | | | | | | | | | | | |
| Manipur | | | | | | | | | | | | | |
| Meghalaya | | | | | | | | | | | | | |
| Mizoram | | | | | | | | | | | | | |
| Nagaland | | | | | | | | | | | | | |
| Odisha | | | | | | | | | | | | | |
| Paschimbanga | | | | | | | | | | | | | |
| Pondicherry | | | | | | | | | | | | | |
| Punjab | | | | | | | | | | | | | |
| Rajasthan | | | | | | | | | | | | | |
| Sikkim | | | | | | | | | | | | | |
| Tamil Nadu | | | | | | | | | | | | | |
| Tripura | | | | | | | | | | | | | |
| Uttar Pradesh | | | | | | | | | | | | | |
| Uttarakhand | | | | | | | | | | | | | |
| West Bengal | | | | | | | | | | | | | |
| Total | | | | | | | | 1 | 1 | | | | |
OD: Selepa robusta Moore, 1888. Descr. new Indian lepid. Insects Colln W.S. Atkinson: 288. Text at https://archive.org/stream/descriptionsofne00hewi#page/288/mode/1up for female. 
Seitz, A. (Ed.). 1925. Macrolepidoptera of the World, Vol. 11, pg. 394, pl. 36k. 
Kononenko, V. S. & A. Pinratana. 2013. Moths of Thailand, Volume 3: Noctuoidea Part 2: Addendum to Vol. 3, Part 1, Families Erebidae, Nolidae, Euteliidae, Noctuidae and Checklist. Brothers of St. Gabriel in Thailand, Bangkok. 625 pp. + 55 pls. Pl. 25/71-72. 
Sondhi, S. Karmakar, T., Sondhi, Y. & K. Kunte. 2021. Moths of Tale Wildlife Sanctuary, Arunachal Pradesh, India with seventeen additions to the moth fauna of India (Lepidoptera: Heterocera). Tropical Lepidoptera Research 31(Supplement 2): 1-53. DOI: 10.5281/zenodo.5062572.Image 240.
Page citation
Anonymous 2023. Giaura robusta (Moore, 1888) – . In Sondhi, S., Y. Sondhi, R.P. Singh, P. Roy and K. Kunte (Chief Editors). Butterflies of India, v. 3.50. Published by the Indian Foundation for Butterflies. URL: https://www.mothsofindia.org/giaura-robusta, accessed 2023/06/05.