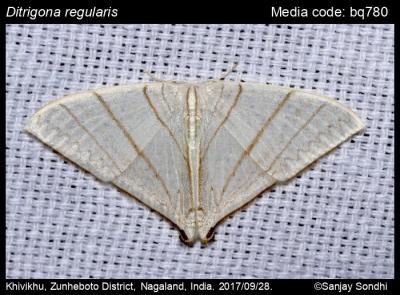 Taxonomic Information
List of Ditrigona Moore, 1888 species known from India (Joshi et al. 2020).
Ditrigona diana Wilkinson, 1968. 
Ditrigona fasciata (Hampson, 1892)
Ditrigona furvicosta (Hampson, 1912)
Ditrigona inconspicua (Leech, 1898)
Ditrigona idaeoides (Hampson, 1892)
Ditrigona innotata (Hampson 1892)
Ditrigona marmorea Wilkinson, 1968
Ditrigona mytylata (Guenee, 1857)
Ditrigona obliquilinea obliquilinea (Hampson,1892) 
Ditrigona pruinosa (Moore, 1888)
Ditrigona quinaria quinaria (Moore, 1867)
Ditrigona quinaria nivea (Hampson, 1892)
Ditrigona regularis Warren, 1922
Ditrigona triangularia (Moore, [1868])
Ditrigona sericea (Leech, 1898)
Photo Gallery and Species Biology
| State | Jan | Feb | Mar | Apr | May | Jun | Jul | Aug | Sep | Oct | Nov | Dec | No date |
| --- | --- | --- | --- | --- | --- | --- | --- | --- | --- | --- | --- | --- | --- |
| Andaman and Nicobar Islands | | | | | | | | | | | | | |
| Andhra Pradesh | | | | | | | | | | | | | |
| Arunachal Pradesh | | | | | | | | 1 | | | | | |
| Assam | | | | | | | | | | | | | |
| Bihar | | | | | | | | | | | | | |
| Chandigarh | | | | | | | | | | | | | |
| Chhattisgarh | | | | | | | | | | | | | |
| Dadra & Nagar Haveli | | | | | | | | | | | | | |
| Daman & Diu | | | | | | | | | | | | | |
| Delhi | | | | | | | | | | | | | |
| Goa | | | | | | | | | | | | | |
| Gujarat | | | | | | | | | | | | | |
| Haryana | | | | | | | | | | | | | |
| Himachal Pradesh | | | | | | | | | | | | | |
| Jammu and Kashmir | | | | | | | | | | | | | |
| Jharkhand | | | | | | | | | | | | | |
| Karnataka | | | | | | | | | | | | | |
| Kerala | | | | | | | | | | | | | |
| Lakshadweep | | | | | | | | | | | | | |
| Madhya Pradesh | | | | | | | | | | | | | |
| Maharashtra | | | | | | | | | | | | | |
| Manipur | | | | | | | | | | | | | |
| Meghalaya | | | | | | | | | | | | | |
| Mizoram | | | | | | | | | | | | | |
| Nagaland | | | | | | | | | 1 | | | | |
| Odisha | | | | | | | | | | | | | |
| Paschimbanga | | | | | | | | | | | | | |
| Pondicherry | | | | | | | | | | | | | |
| Punjab | | | | | | | | | | | | | |
| Rajasthan | | | | | | | | | | | | | |
| Sikkim | | | | | | | | | | | | | |
| Tamil Nadu | | | | | | | | | | | | | |
| Tripura | | | | | | | | | | | | | |
| Uttar Pradesh | | | | | | | | | | | | | |
| Uttarakhand | | | | | | | | | | | | | |
| West Bengal | | | | | | | 1 | | | | | | |
| Total | | | | | | | 1 | 1 | 1 | | | | |
OD: Ditrigona regularis Warren, 1922. Seitz Fauna Indo Aust. Vol X. Pg. 463. TL: Khasi Hills. 
Wilkinson, C. 1968. A taxonomic revision of the genus Ditrigona (Lepidoptera: Drepanidae: Drepaninae). The Transactions of the Zoological Society of London Volume 31, Issue 4.
http://v3.boldsystems.org/index.php/Taxbrowser_Taxonpage?taxid=407860  [accessed 30 April 2019]
Haruta, T. (Ed.). 1993. Moths of Nepal. Part 2. TINEA. Vol. 13 (Supplement 3). The Japan Heterocerists' Society, Tokyo. Pl. 61/3. 
Page citation
Anonymous 2023. Ditrigona regularis Warren, 1922 – . In Sondhi, S., Y. Sondhi, R.P. Singh, P. Roy and K. Kunte (Chief Editors). Butterflies of India, v. 3.62. Published by the Indian Foundation for Butterflies. URL: https://www.mothsofindia.org/ditrigona-regularis, accessed 2023/12/01.