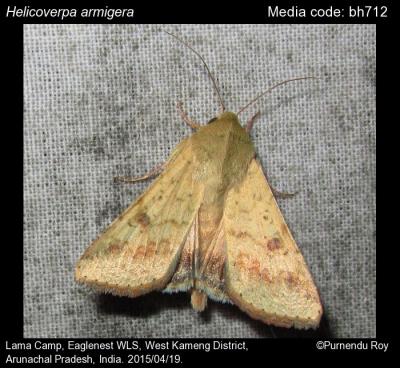 Taxonomic Information
Helicoverpa Hardwick, 1965 species known from India
Helicoverpa armigera (Hübner, [1808])
Helicoverpa assulta (Guenée, 1852)
Photo Gallery and Species Biology
| State | Jan | Feb | Mar | Apr | May | Jun | Jul | Aug | Sep | Oct | Nov | Dec | No date |
| --- | --- | --- | --- | --- | --- | --- | --- | --- | --- | --- | --- | --- | --- |
| Andaman and Nicobar Islands | | | | | | | | | | | | | |
| Andhra Pradesh | | | | 1 | | | | | | | | 1 | |
| Arunachal Pradesh | | | 1 | 1 | 2 | 1 | | | | | | | |
| Assam | | | | | | | | | | | | | |
| Bihar | | | | | | | | | | | | | |
| Chandigarh | | | 1 | 2 | | | | | | | | | |
| Chhattisgarh | | | | | 1 | | | | | | 1 | 1 | |
| Dadra & Nagar Haveli | | | | | | | | | | | | | |
| Daman & Diu | | | | | | | | | | | | | |
| Delhi | | | | 1 | 1 | 1 | | | | 1 | | | |
| Goa | | | | | | | | | | | | | |
| Gujarat | | | | | 1 | | | 2 | 2 | | 2 | | |
| Haryana | | | | | | | | | | | | | |
| Himachal Pradesh | | | | | | 1 | | | | | | | |
| Jammu and Kashmir | | | | | | | | | | | | | |
| Jharkhand | | | | | | | | | | | | | |
| Karnataka | 1 | | | | | | | | | 1 | 2 | | |
| Kerala | | | 1 | 1 | | | | | | | | | |
| Lakshadweep | | | | | | | | | | | | | |
| Madhya Pradesh | | | 4 | 2 | | | | | | | | | |
| Maharashtra | | | 6 | | 1 | | 1 | | 5 | 3 | 5 | 3 | |
| Manipur | | | | | | | | | | | | | |
| Meghalaya | | | | | | | | | | | | | |
| Mizoram | | | | | | | | | | | | | |
| Nagaland | | | | | | | | | | | | | |
| Odisha | | | | | | | | | | | | | |
| Paschimbanga | | | | | | 1 | | | | | | | |
| Pondicherry | | | | | | | | | | | | | |
| Punjab | | | | | | | | | | | | | |
| Rajasthan | | | | | | | | | | 1 | | | |
| Sikkim | | | | 1 | | | | | | | | | |
| Tamil Nadu | | | | | | 1 | | | | | | 5 | |
| Tripura | | | | | | | | | | | | | |
| Uttar Pradesh | | | | | | | | | | | | | |
| Uttarakhand | 2 | | 4 | 14 | 1 | 1 | | | | | 2 | 2 | |
| West Bengal | | | | | | 1 | | | | | | | |
| Total | 3 | | 17 | 23 | 7 | 7 | 1 | 2 | 7 | 6 | 12 | 12 | |
Helicoverpa armigera Hübner, [1809]: Allium cepa (Amaryllidaceae), Cannabis sativa (Cannabaceae), Dianthus caryophyllus (Caryophyllaceae), Carthamus tinctorius, Guizotia abyssinica, Saussurea candicans, Zinnia violacea (Compositae), Ricinus communis (Euphorbiaceae), Avena sativa, Oryza sativa, Pennisetum glaucum, Sorghum bicolor (Poaceae), Acacia catechu, Albizia procera, Arachis hypogaea, Cajanus cajan, Crotolaria juncea, Dalbergia sissoo, Medicago sativa, Pisum sativum (Fabaceae), Linum usitatissimum (Linaceae),Abelmoschus esculentus, Alcea rosea, Gossypium hirsutum, Hibiscus mutabilis (Malvaceae), Platanus orientalis (Platanaceae), Citrus sinensis (Rutaceae), Populus euphratica, Salix tetrasperma (Salicaceae), Antirrhinum majus (Plantaginaceae),Datura stramonium, Hyoscyamus niger, Solanum lycopersicum, Solanum tuberosum (Solanaceae) (Robinson et al. 2010); Verbascum thapsus (Scrophulariaceae) (Reared by Rachit Singh). 
pl.14:21
Pl. 45/19. 
Sivasankaran, K., S. Ignacimuthu, M.G. Paulraj & S. Prabhakaran (2012). A Checklist of Noctuidae (Insecta: Lepidoptera: Noctuoidea) of India. Records of the Zoological Survey of India. 111 (Part-3): 79-101.
Muddasar, Venkateshalu and Shashank P. R. 2017. Taxonomic description of three species of Heliothinae (Noctuidae; Lepidoptera). Int. J. of Adv. Res. 5 (Sep). 737-745. 
http://lepidoptera.butterflyhouse.com.au/heli/armi.html [accessed 27 October 2016]
ICAR-National Bureau of Agricultural Insect Resources. 2013. http://www.nbair.res.in/insectpests/Helicoverpa-armigera.php [accessed 26 January 2016]
Page citation
Anonymous 2023. Helicoverpa armigera (Hübner, [1808]) – Cotton Bollworm. In Sondhi, S., Y. Sondhi, R.P. Singh, P. Roy and K. Kunte (Chief Editors). Butterflies of India, v. 3.42. Published by the Indian Foundation for Butterflies. URL: https://www.mothsofindia.org/helicoverpa-armigera, accessed 2023/03/27.