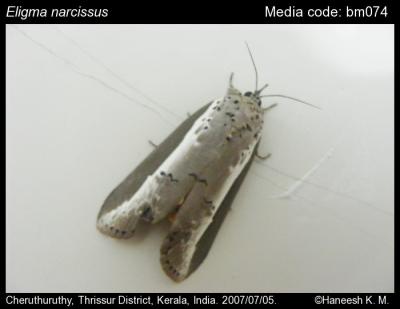 Photo Gallery and Species Biology
| State | Jan | Feb | Mar | Apr | May | Jun | Jul | Aug | Sep | Oct | Nov | Dec | No date |
| --- | --- | --- | --- | --- | --- | --- | --- | --- | --- | --- | --- | --- | --- |
| Andaman and Nicobar Islands | | | | | | | | | | | | 1 | |
| Andhra Pradesh | | | | | | | | | | | 2 | | |
| Arunachal Pradesh | | | | | | | | | | | | | |
| Assam | | | | | | | | | | | | | |
| Bihar | | | | | | | | | | | | | |
| Chandigarh | | | | | | | | | | | | | |
| Chhattisgarh | | | | | | | | | | | | | |
| Dadra & Nagar Haveli | | | | | | | | | | | | | |
| Daman & Diu | | | | | | | | | | | | | |
| Delhi | | | | | | | | | | | | | |
| Goa | | | | | | | | | | | | | |
| Gujarat | | | | | | | | | | | | | |
| Haryana | | | | | | | | | | | | | |
| Himachal Pradesh | | | | | | | | | | | | | |
| Jammu and Kashmir | | | | | | | | | | | | | |
| Jharkhand | | | | | | | | | | | | | |
| Karnataka | | | | | | | | | | | | 1 | |
| Kerala | 2 | 4 | 1 | | | | 1 | 1 | | | | | |
| Lakshadweep | | | | | | | | | | | | | |
| Madhya Pradesh | | | | | | | | | | | | | |
| Maharashtra | | | | | | | | | | | | | |
| Manipur | | | | | | | | | | | | | |
| Meghalaya | | | | | | | | | | | | | |
| Mizoram | | | | | | | | | | | | | |
| Nagaland | | | | | | | | | | | | | |
| Odisha | | | | | | | | | | | | | |
| Paschimbanga | | | | | | | | | | | | | |
| Pondicherry | | | | | | | | | | | | | |
| Punjab | | | | | | | | | | | | | |
| Rajasthan | | | | | | | | | | | | | |
| Sikkim | | | | | | | | | | | | | |
| Tamil Nadu | | | | | | | | | | | | | |
| Tripura | | | | | | | | | | | | | |
| Uttar Pradesh | | | | | | | | | | | | | |
| Uttarakhand | | | | | | | | | | | | | |
| West Bengal | | | | | | | | | | | | | |
| Total | 2 | 4 | 1 | | | | 1 | 1 | | | 2 | 2 | |
Eligma narcissus (Cramer, [1775]) – Ailanthus Defoliator: Ailanthus excelsa, Ailanthus triphysa (Simaroubaceae) (Robinson et al.2010).
Cramer, P.1775. De uitlandsche kapellen, voorkomende in de drie waereld-deelen Asia, Africa en America. Pg. 116, plate LXXIII fg. E,F
43, # 1257
pg.
Inoue, H., Sugi, S., Kuroko, H., Moriuti, S. u. Kawabe, A. 1982. Moths of Japan. Vol. 2. 231 Farbtafeln, 161 Schwarz-Weiß-Tafeln, 552 S. Text. 1982. Kodansha Co. Ltd. Tokyo, pl 193/33.
http://www.boldsystems.org/index.php/Taxbrowser_Taxonpage?taxid=297131 [accessed 24 Dec 2015]
Wikipedia contributors. Eligma narcissus [Internet]. Wikipedia, The Free Encyclopedia; 2014 Aug 15, 18:44 UTC [cited 2015 Dec 24]. Available from: https://en.wikipedia.org/w/index.php?title=Eligma_narcissus&oldid=621388764.
Page citation
Anonymous 2023. Eligma narcissus (Cramer, [1775]) – Ailanthus Defoliator. In Sondhi, S., Y. Sondhi, R.P. Singh, P. Roy and K. Kunte (Chief Editors). Butterflies of India, v. 3.42. Published by the Indian Foundation for Butterflies. URL: https://www.mothsofindia.org/eligma-narcissus, accessed 2023/03/21.